Eagle House Offers Discounts to NHS Staff
Honouring NHS Heroes with Exclusive Discounts
We deeply value the remarkable contributions of NHS workers. This is why we have teamed up with a company called Health Staff Discounts to offer reduced rates for NHS workers.
If you work for the NHS, click the link below to access a special offer of 10% off our standard room rate. This is applicable to both our Bed and Breakfast rooms and the Eagle's Nest, our one bed self cater apartment.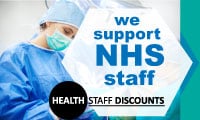 Who are Health Staff discounts?
Health Staff Discounts offer a wide verity of discounts on all sorts of products and services. They facilitate access to offers from a variaty of local and national businesses.
Giving Back
This initiative holds a special place in our hearts. We have both personally experienced the incredible support of the NHS during challenging times in our lives. These experiences have instilled in us a profound gratitude and a determination to give back in any way possible.
Helen spent over thirteen years working as a nurse on a surgical ward and in medical research, so she knows first hand, how hard our NHS staff work. She also owes her life to the them. Helen was diagnosed with cancer shortly before moving to Eagle House in Eccleshall and underwent major surgery. She made a full recovery and feels forever indebted to the care, professionalism and expertise she received from all of the NHS team.
Andy has also been well looked after by the NHS. In his youth, he spent six months in hospital following an accident which almost took his life. He will never forget the hard work, dedication and compassion of those that helped him to recover. Andy is only here today because of those who cared for him following his accident.
More Blog Posts